It's great when a teacher can incorporate holiday-themed activities into lesson plans and have students engaged and interacting. And what better holiday than Thanksgiving and this easy-to-use WATCH & LISTEN resource?
With Thanksgiving around the corner, we have found some engaging Thanksgiving-themed readlouds, that teachers can use in their classrooms. With everything always so busy during the holiday season,  teachers sometimes don't have the extra time to sit on the reading rug to read books out loud, so instead we WATCH & LISTEN. Great for transitioning between lessons, at the end of the school day, or the day before Thanksgiving break. Your kiddos will love them.
Twas the Night Before THANKSGIVING
by Dav Pilkey

The day before Thanksgiving eight boys and girls take a field trip to a turkey farm.  

They have fun playing with eight exuberant turkeys but are shocked to learn that Farmer Mack Nuggett plans to kill all the turkeys for Thanksgiving dinners. So the children decide to smuggle all the turkeys home, and all their Thanksgiving dinners become vegetarian this year. The turkeys' lives are saved!

Watch and Listen Link
There Was An Old Lady Who Swallowed a Turkey
by Lucille Colandro
The little old lady is at it again, and this time she is swallowing…… she's always been quirky. You won't believe why this old lady swallowed a turkey, a ball, a hat, a balloon, some wheels, and a horn of plenty. Find out what happens on this fun book of sequencing. CLICK HERE to see the extra lesson resource we have that goes with this book.

Bear Says Thanks
by Karma Wilson
Bear has come up with the perfect way to say thanks- a nice big dinner! When Bear decides to throw a feast, his friends show up one by one with different platters of food to share. But Bear has a problem. His cupboards are bare.  What is he going to do?
How to Catch a Turkey
by Adam Wallace
A delightful tale of a turkey who finds out that 

he is going to be a part of the school's Thanksgiving play, but horribly develops an awful case of stage fright. How will they catch the turkey in time for the play?

The Amazing Turkey Rescue
by Steve Metzger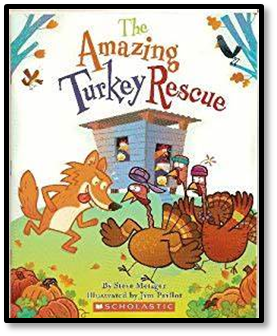 Cassie, Wing, and Ollie are back on the farm for another wild Thanksgiving adventure. When a fox climbs over the fence and is spotted around the hen house and the turkeys smell trouble?
If you'd like to save this post for future reference, feel free to use the image below to pin to your Pinterest board or use this link to directly pin quickly and easily!
Related Thanksgiving Resources:
>> Thanksgiving Hundreds Chart Mystery Pictures
>> Fall Hundreds Chart Mystery Pictures
>> Student Behavior Charts- November
>> Fold on the Bold Resources-November Gr.1 & 2